Getting Out On The Town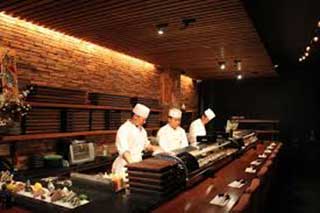 Aqua Blue hit the ground running at its launch party last August with a larger-than-expected crowd of young, trendy guests who came to check out the new digs.
The restaurant's specials, which change daily, have a selection of familiar favorites, including comfort-food staple roast turkey with stuffing. Oversized sandwiches are also a house specialty. Veggie lovers will find comfort in the portobello, roasted pepper and zucchini sandwich. For those in the mood for a steak or chop, the T-bone lamb chop is delicious.
At the other end of the culinary spectrum is the raw bar and blue-ribbon sushi. The `aqua' part of Aqua Blue is six seafood choices. The wine list features 50 selections of red and white wine. Entrees range from $18 to $35, appetizers and salads range from $5 to $13 and desserts are $6. Note to the calorie conscious: The butter lettuce cup salad stuffed with caramelized pears and pecans, served with a gorgonzola dressing, is light and tasty. The sushi area is set apart in a corner with white tiled floors and modern-looking aluminum chairs and cafe tables. Sushi chef Saito makes guests feel welcomed with his friendly side manner.
A bank of booths, on one side of the restaurant, are cozy and high enough to shield out the conversation of fellow diners. More formal table seating is available in the back of the restaurant.
Oversized white curtains that drape from ceiling to floor, separating the space between the bar and eating areas, create a dining area for semi-private parties of up to 60 people. A jazz brunch is served on Saturday and Sunday.
The decor is very modern, with white walls, and accents of aqua blue. The interior of this sparse space with its simple contemporary fixtures and hues is similar to that of South Beach's hip Delano Hotel.
Aqua Blue. 1564 Holcomb Bridge Road; 770-643-8886; atlantaaquablue.com.
Song of the South
In an unassuming house at the crossroads of East Paces and Maple in the heart of Buckhead, a new restaurant overflows with local artists' paintings, sculptures, lighting and furnishings.
Aria's decor evokes both South Beach (al fresco dining, plush white sofas and a steel-beaded curtain leading to a bar strewn with aromatherapy candles) and Manhattan (cool, dark hardwoods, sleek leather-lined walls and a sophisticated clientele).
Those looking for a quick get-in-eat-get-out experience should skip Aria. A meticulously attentive, yet unhurried wait staff caters to every request. The service echoes the kitchen's philosophy of slow-cooked cuisine; a dish may have been roasting, simmering or stewing for the past five or seven hours.
This behind-the-scenes patience shows owner and executive chef Gerry Klaskala's expertise for remarkably flavorful dishes, which change nightly. The starter menu, at $12, certainly offers generous portions, but several other appetizers are more worthy of attention. Don't miss the warm lobster cocktail, served in a martini glass, with generous chunks of succulent butter-braised lobster submerged in creamy truffled spuds topped with a sweet broccoli puree.
The generously sized entrees range from $19 to $29. The roasted breast of farm-raised duck pairs the tender, savory fowl with fresh Georgia peaches, juicy baby spinach and bite-sized fingerling potatoes, all in a tangy dark port-wine-and-peach sauce. The pan-roasted filet mignon, seasoned and cooked to order, is accompanied by a medley of white corn and sweet red peppers, as well as caramelized onion potatoes, and topped with crisped Vidalia onions.
Pastry chef Kathryn A. King creates scrumptious desserts, including a blueberry tart, homemade sorbets and a Bing cherry creme brulee. Aria also offers a cheese sampler in the European tradition, for $9. For those wishing to escape the hustle of the city, the restaurant offers private dining for two to four guests in its 5,000-bottle wine cellar. 490 East Paces Ferry Road; 404-233-7673.
Works of Heart
I draw things you haven't seen born into this world." Georgia-born, self-taught artist Nellie Mae Rowe (1900-1982).
One of a kind, whimsical, contemplative, and other-worldly works by names such as Howard Finster or Nellie Mae Rowe, and lesser known artists like Carlton Garrett or Bessie Harvey make up the High Museum of Art's "New Treasures, Old Favorites: American Self-Taught Art From the High" at the downtown Folk Art and Photography Galleries, a satellite gallery of the High Museum of Art on Peachtree Street. The exhibit is on view through April 7, 2002.
"What Is the Soul of Man" is a newly acquired piece by Howard Finster. The self-proclaimed North Georgia preacher was, so the story goes, "commanded by God to paint sacred art" and to build the Paradise Garden, an environmental monument to Earth's creatures around his modest home. His vibrant multicolored, calligraphed work has decorated leading collections and record album covers for nearly 20 years. Also in the exhibition: Ferdinand Cooper's miniature environments and Nellie Mae Rowe's animal sculptures made of wood, felt pen, glitter and chewing gum convey insightful visions of elements of daily life. The exhibition goes beyond a regional focus, with works by Southwestern artists such as Felipe Benito Archuleta and Calvin Black.
"New Treasures, Old Favorites" is not restricted to rough-hewn primitive sculpture or rural themes. In the work of Atlanta artist George Lowe, "Lost in Space"-style kitsch meets inner space exploration. Lowe, known to many as the voice of "Space Ghost" in The Cartoon Network's television series "Space Ghost, Coast to Coast," is an illustrator whose drawings are "almost like an interior roadmap," said curatorial assistant Anne Berry Pomeroy.
Along with folk art, the Folk Art and Photography Galleries will present "Pictures Tell the Story: Ernest C. Withers," a retrospective of the documentary photographers' images of key moments in recent American history. Candid shots of musical giants like Ike and Tina Turner and Ray Charles, along with crucial moments in American Civil Rights history, are captured by his camera.
The museum's elegant, modern galleries are in the lower level of the Georgia-Pacific Center, in the heart of downtown Atlanta, a short walk from AmericasMart. Admission is free. 133 Peachtree Street at John Wesley Dobbs Avenue; 404-577-6940.
September 26, 2015 at 9:36 am