You Hungry? We Got You!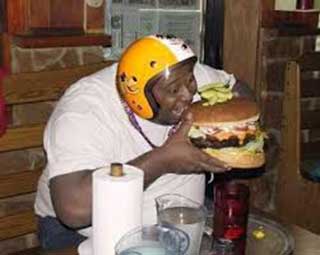 Entering Fogo de Chao (pronounced "fo-go dee shown"), the upscale Buckhead churrascaria transports diners out of the local, genteelly posh scene and into a world seemingly stuck in fast-forward. A barrage of servers dash left and right, armed often with large skewers of slow-roasted, precisely seasoned meat, not to mention a razor-sharp carving knife. This is where good food is.
A culinary tradition in southern Brazil for over three centuries, churrasco originated when southern Brazilian cowboys, known as gauchos (very different than typical US Western Cowboys), shared their adventures around open-flame pits while slow-roasting large pieces of meat.
This is the sixth such restaurant for brothers Jair and Arri Coser and Jorge and Aleixo Ongaratto. Other locations are in Dallas, Houston and Brazil.
In one of the more unique aspects of Fogo de Chao, each server cooks the meat he serves. Having trained for at least two years in Brazilian churrascarias, the staff makes the rounds with 15 authentically prepared cuts of meat, including frango (bacon-wrapped chicken legs or breasts), filet mignon, costela de porco (pork ribs) and cordeiro (leg of lamb).
There is no set menu. Instead, diners are given a two-sided token to signal their choices. Flashing the green side at a waiter means "bring it on;" red signals a pass on the latest offering.
Diners pay a fixed price, $38.50, for all the meat they can handle, plus side dishes such as fried yucca and bananas, cheese bread and garlic mashed potatoes, and unlimited access to a salad bar that's loaded with cheeses, breads, vegetables, salads, rice, beans and relishes. A word to the wise: In this all-you-can-eat environment, known as espeto corrido, or "continuous service," it's important to pace yourself. Then there might be room for a selection off the dessert menu, starring a divine chocolate mousse cake. 3101 Piedmont Road; 404-995-9982 or fogodechao.com.
Pie, Oh Pie
Though its name is Italian for "chaos," Baraonda restaurant and bar equals anything but. Its owners, originally from Sicily and Capri, apply the Mediterranean philosophy of good wine and unfussy food, served in an equally unfussy room populated with wooden tables and grand, open windows. Though it's just yards away from Peachtree Street's bumper-to-bumper traffic, even its terrace maintains a tranquility that's just right for a business lunch or pre-theater bite.
"We wanted to create an ambience where people could forget the stress of the day and where different backgrounds and languages could come together — the closest thing this city has to a real trattoria," said partner Lamia Sbihi.
Baraonda's menu features most of the classic Italian salads and entrees, a few of which are from its popular sister restaurant in Buckhead, Ciao Bella.
There also are some enticing specials such as chicken and mozzarella ravioli in a tomato and pesto cream sauce, a dish so tempting that entire parties have been known to order it. But the main attraction is the Neapolitan pizza, which is baked in a wood-fired oven. Northeast and Midwest transplants flock to Baraonda for what comes close to the real deal: light and flaky crusts topped with combinations of shaved prosciutto and arugula, garden vegetables or caprese with buffalo mozzarella, tomatoes and basil. Pizzas, which range from $8 to $12.50, are considered individual size, but could easily fill two smaller appetites.
Invest those saved calories in desserts instead, such as a creamy tiramisu and homemade gelati in assorted flavors, with pistachio, coconut and hazelnut being among the best. 710 Peachtree Street; 404-879-9962.
Just Capital
As the glass elevator doors open on the new Capital Grille restaurant in the heart of Buckhead, rich mahogany millwork paneling, marble floors, majestic colored carpets and a softly-lit dining room greet the eye.
The elegant, yet warm and inviting space is in the new Capital Building, at 255 East Paces Ferry Road. The Atlanta opening marks the Capital Grille's 15th restaurant. Other locations include Boston, Chicago; Texas; Washington, D.C., and Philadelphia.
The restaurant specializes in dry aged steaks, chops, and fresh seafood, carefully selected under executive chef Jason Perry. Dry aged beef is cured during a 14-day process in on site state-of-the-art meat lockers. Slow-aging in a temperature-controlled and low-humidity environment brings out natural flavors. The results — tender and succulent tasting sirloin and porterhouse steak — are a Capital Grille specialty.
Entrees range from $18.00 to $32.95 and include fresh broiled lobster, grilled salmon, tuna and swordfish.
Pan-fried calamari served with hot cherry peppers is a favorite appetizer. Desserts tend toward the classic, such as a chocolate hazelnut cake or creme brulee.
The award-winning wine list, as celebrated by the Wine Spectator magazine, has over 300 selections from California, France and Italy. A floor-to-ceiling glass wine kiosk on view from the dining area highlights the superb selections. Prefer a martini? Try the signature Stoli Doli, a house specialty, made with pineapple juice.
With a panoramic view of midtown and downtown, lunch or dinner is served in the main dining area. Three private dining rooms seating up to 30 guests are available on request. 255 East Paces Ferry Road; 404-262-1162.
October 24, 2015 at 11:06 am