Betsey Johnson Made Success From Nothing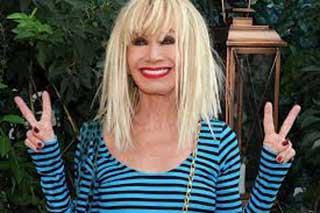 Betsy Johnson wants you to know who she is. She wants retailers, designers and manufacturers to think of unique, unusual, exclusive accessories when they mention her name. She wants this so much, that she's changed the name of her business, which she launched a year ago.
"I got calls for Betsey Johnson, the ubiquitous New York clothing designer, all the time," she said. "People saw the name on my showroom and thought it was her apparel showroom. I realized to gain a name for myself, I had to change my name to French Cicada."
So after about four months in business, Johnson moved from a 400-square-foot space in the Atlanta Apparel Mart to a 900-square-foot space, and French Cicada was born. The showroom is filled with unknown and up-and-coming accessories designers that create everything from cute little ballet slipper shoes by Amy Jo Gladstone to chunky stone necklaces by Destination Bliss to mini handbags topped with feathers by Cara Couture. Other lines the firm represents include Kokin Hats, Infinity Designs, Athena International, Carol Henry, Lori-France Koenig, Amenities, 2 A.M. Designs and Weekly Readers.
"None of my lines were in Atlanta before so it's really new and exciting," she said. "I tried to bring in lines that I loved that worked together, but didn't compete."
Now the showroom offers about 20 different lines, with wholesale prices ranging from $35 to over $2000.
She believes that even with a slow economy, accessories are still important. "People will always spend a little money on a great accessory because it can bring new life to old clothes. Plus there's value in buying sterling, 14- and 18-karat gold."
Johnson travels the Carolinas and Florida, visiting stores and helping with merchandising, offering trunk shows and trying to fine-tune each store buy. "The other night, my 800 number rang at 11:30 p.m., and I answered it — the retailer was totally surprised."
Johnson dabbled in the wholesale apparel business in the early Eighties, then quickly moved into computer sales and finally into retail management for a bath and body store. A few years ago, she landed back in the market as a sales associate at contemporary jewelry line Barse & Co.
"I learned so much from them, and had so much fun I wanted to try it on my own," she said. "I feel like I've found my home.
September 23, 2015 at 9:25 am