AmericaSmart: Solid, Solid Moves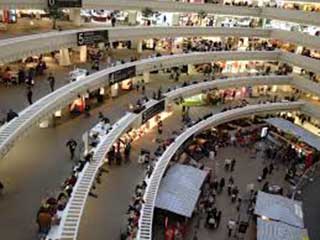 Despite uncertain times, AmericasMart Apparel is aggressively targeting buyers with bold initiatives. With a new twice-yearly juried show, AmericasMart hopes to lure hot new lines and new buyers that will catapult Atlanta from regional fair to international fashion center.
Officials said the timing is right. With the soft economy, retailers are cutting back on travel, making fewer buying trips to New York. The new show positions Atlanta perfectly as a viable alternative.
"We've come far enough with our product mix and reputation, to offer our customers a high-end show with hot lines, some European resources they usually find only in New York," said Peg Canter, general manager of AmericasMart Apparel.
Officials are banking on the debut of A-Line, slated for April 11-15, to take the Mart to a new level, with lines never before seen in Atlanta, including ones that appear at the Coterie and other New York shows. Organizers also hope to include California lines, which resonate with Sunbelt buyers for casual, colorful styling.
Product will include women's ready-to-wear and sportswear, with high-end accessories accounting for around 25 percent of the show. A new shoe gallery will feature boutique lines.
With 150 10-by-10-foot booths, the show will occupy exhibition space on the fifth floor of the apparel mart. A-line will run consecutively with regularly scheduled women's and children's markets during April and October shows. It will not replace or interfere with shows in January, June or August, which will proceed as scheduled.
The new show allows the Mart to continue targeting buyers beyond the Southeast, an effort that began several years ago. Officials have visited numerous Midwest stores in recent weeks, to lure key retailers that don't shop Atlanta, or that go to New York exclusively.
"Our goal is to bring in 300 new stores with this new product," Canter said. "We want a new audience, but we don't want to just divide the pie one more time. We think buyers should still go to New York, it's the hub of the fashion industry, but we want to eliminate the need for so many New York buying trips."
Although A-Line exhibitors will show only twice a year, officials hope it will serve as an impetus for future permanent tenants. Leasing rates are competitive with similar trade shows, said Canter. Lines are only eligible for A-Line that have not shown in Atlanta for at least one year, to avoid conflicts with existing permanent showroom reps. However, reps can agree to release a resource to A-Line.
Permanent tenants at AmericasMart expect the show to boost business generally in the building.
"It's a fantastic idea, that should bring in the sharpest customers in the Southeast," said Dan Strauss, principal at Dan Strauss Apparel, a multiline high-end sales firm with an Atlanta showroom. "The new vendors will also give us a chance to find new lines."
After the events of Sept. 11 disrupted New York shows and postponed the New York's Coterie show, the Atlanta Mart was flooded with phone calls from New York exhibitors looking for space to show goods. At the October market, officials quickly put together New Collections on Nine, an impromptu show, as a response to exhibitors' requests.
The October collection brought in 78 new lines, serving as a preview of what A-Line promises to offer Atlanta. Lines included New York showrooms such as Hotline, a contemporary multiline firm, and Susan Greenstadt & Associates, which offered a five-line package.
Principal Susan Greenstadt was pleased with her Atlanta experience, and plans to show at A-Line.
"With business as tenuous as it is, we're looking at options," she said. "The Atlanta market is a pioneering territory for us, and the people we saw were thrilled that we were there."
Both Hotline and Susan Greenstadt & Associates include the type of lines AmericasMart hopes to attract to A-Line.
"We're of-the-moment, young, with a sexy edge," said Hillary Rosen, principal of Hotline with partner Heidi Davis. "It's the kind of thing you look at and say, `Oh my God, I gotta have that."'
AmericasMart fashion director Kaye Davis will sell space for A-Line, as executive director of fashion, A-Line. She reports to Gayle Gibbs, a betterwear leasing agent, who was recently promoted to vice president of leasing.
Along with an extensive direct-mail campaign, A-Line will advertise in trade publications. Buyers will be treated to free lunches, plus extras such as mini-massages and mini-makeovers. A-Line's appearance will take cues from successful New York trade shows.
Along with A-line, AmericasMart will grow shows with specific product focus, such as the Southeast Bridal show, which is scheduled to run April 11-15 and Aug. 22-26. The first show, in August 2001, featured a live wedding in the mart's atrium, along with a huge fashion show and educational events.
The Mart also is continuing its cross-marketing initiatives. In addition to apparel, the AmericasMart campus includes the Merchandise Mart and the highly successful Gift Mart, which draws up to 70,000 buyers for major gift shows. In recent years, accessories showrooms in the apparel mart have opened during gift markets, drawing crossover traffic that sometimes rivals that of apparel shows.
"John Portman [original founder of AmericasMart] had an early vision of the world's biggest shopping center, a place for retailers to buy gift, apparel, home, shoes, etc.," said Canter. "His ideas have proven correct, as retailers look for more product to add for a successful mix."
With the apparel building 85 percent leased, overall buyer attendance increased 3 percent this year. But the focus, said Canter, remains on quality, rather than quantity. Relying on A-Line and other product-specific shows to draw out-of-territory stores should increase numbers, but it's no longer just a numbers' game.
"Numbers create a buzz, but we're out to attract the strongest stores, the ones with significant buying power," she said.
October 13, 2015 at 11:15 am