Keep Your Shopping Red Hot!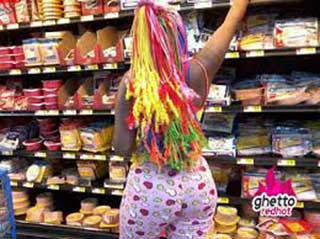 With more than 2,500 indoor booths occupying two buildings, the Scott Antique Market goes on, rain or shine, on the second weekend of each month. Exhibitor Marun Mualem, of Love Train Antiques (an importer of European furnishings), extols Atlanta's reputation as a hot spot for the interior-design market. "There's always something intriguing here," Marun says. Passing over massive French armoires, gilded mirrors, leather and mohair club chairs, and a cozy chaise, Jane–whose New York City apartment is "shoe-box size"–opted for totable buys, like wooden letters, rhinestone appliques, and enamelware vessels. Margo (below, left, carrying basket) went home with a vintage card table and a salvaged windowpane.
Sunday at lakewood
Set up like a country fair–spread out in seven exhibit halls and three courtyards on 1.5 acres–the Historic Lakewood Antiques Market is a place where kids can trail their parents in red wagons, contentedly eating corn dogs and sipping lemonade. The offerings include a mix of colorful housewares, vintage clothing, kitschy lunch boxes, and painted furniture. Sue Campbell, known at Lakewood as the "button lady," thinks of this 13-year-old show as "a little community." (Sue is also a practicing holistic nurse; the doughnut stand vendor is a retired postal worker.) Kitchenware dealer Sandy Bigelow observes, "It's clean, fun–and for $20 to $100, you can leave with something to love," she says. Margo and Jane found plenty to love here.
shopping atlanta, etc.
As a homeowner, product designer, and manufacturer as well as a manufacturer's representative and a woman-about-Atlanta, Margo Tantau makes it a habit to shop the local antiques markets for samples, home furnishings, and inspiration. Here, she shares some tips on antiquing:
What's your aim? Go shopping with an idea of what you want, but always keep an open mind–and a couple of extra checks on hand.
Come prepared. Margo keeps her SUV stocked with packing supplies: boxes, blankets, tote bags, and newspapers for wrapping fragile items.
Communicate. When Margo shops with biz partner Aaron Foster, both carry cell phones: This way, they cover twice as much ground and stay in touch. Margo and Jane used a two-way radio to keep track of each other.
Come to Atlanta! Have a cup of frothy cappuccino and check out the vintage finds at Sacred Ground, Inspect the silver offerings at Beverly Bremer Silver Shop. Scout out the vintage clothing at the shops in Little Five Points. Don't forget to browse around Providence on North Highland and the multi-stall Interiors Market on Bennett Street in Buckhead.
PS: Margo runs Relish on Trabert Street, a veritable warehouse of antiques and showroom samples: If you go, tell her Jane sent you! SEE SHOPPING GUIDE FOR DETAILS. FOR MORE ON ATLANTA, SEE ON THE ROAD IN THIS ISSUE.
look at their loot
margo
iron daybed (below, purchased for resale); mattress (for her daybed at home); pale-green Windsor armchair (now a desk chair in her studio); green desk lamp (left); salvaged window (which she made into a lettered sign).
jane
jar of buttons (kept buttons, gave jar to Margo); faux bois tin (for the buttons!); elastic waist pants ("comfy for my pregnant belly'); 3 jumbo cups of sweet tea ($3), 2 bags of mini doughnuts ($2), and 1 corn dog ($1.50).
September 29, 2015 at 10:10 am