More Charms Of ATL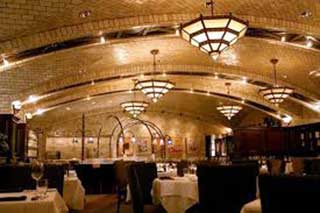 The pulse of Atlanta is hard to put your finger on. In many ways, this Southern metropolis feels much like any other big, sprawling urban region crisscrossed with superhighways and shiny skyscrapers. It's home to Coca-Cola, Turner Field (the 50,091-seat ballpark where fans root for the Braves), the massive CNN Center, Centennial Olympic Park, and 3.5 million residents spread across the metropolitan area. Exit the freeway, though, and the city's historic character and easy charm unfold. Just past the off-ramps, gracious houses stand on streets shaded by 100-year-old live oaks and magnolias, and reenergized urban neighborhoods, such as Little Five Points, Virginia-Highland, and Buckhead, support thriving commercial districts. Satisfyingly lush and green, Atlanta has more than 310 tranquil parks, ranging in size from postage-stamp neighborhood greenways to expansive public commons.
On a comfortable day (fall and spring are the best times to visit), it can seem like half the population of Atlanta is walking, cycl ing, or running in either Chastain or Piedmont Park, two of the city's most alluring green spaces. Although public transportation is available, most out-of-town visitors prefer to navigate the local roads in their own vehicle. Purchase a good street map if you opt to rent a car, and try not to judge Atlantans by their rush-hour antics–off road, residents are refreshingly polite and helpful and take the notion of Southern bonhomie and hospitality to heart.
Dinning Out
When exploring Atlanta's restaurants, emulate Scarlett O'Hara and worry about the calories tomorrow. A favorite for breakfast, OK Cafe serves up comfort foods like cheese grits and apple-pecan pancakes. Seasonal American fare distinguishes Bacchanalia, one of Atlanta's most popular places to dine, If it's sweet tea and heaping portions of Southern cooking you crave, check out the Colonnade, a winner that has been nourishing locals since 1927. Visit Son's Place for its crispy fried chicken, hoecakes, and homemade lemonade. Try the Silver Skillet for country ham with redeye gravy. For chili dogs, onion rings, and the sheer experience of it, motor over to the North Avenue Varsity, the world's largest drive-in. For baked goods and sandwiches, drop by Mondo, a stylish coffee shop and newsstand.
Shops & Hotels
Housed in a comfort able Craftsman-style bungalow in Virginia-Highland, the Gaslight Inn (above) offers seven rooms within walking distance of diverse shops, galleries, and restaurants. Situated across the street from the Fox Theatre, the historic Georgian Terrace Hotel has a rooftop pool that offers sweeping views of Atlanta. The comfortable Tudor-style Ansley Inn is near the Atlanta Botanical Garden and High Museum, If you want to hit Phipps Plaza and Lenox Square, two of Atlanta's swankier malls, consider Buckhead's centrally located Ritz-Canton or Courtyard by Marriott. You'll find great shopping in neighborhoods like Little Five Points, Virginia-Highland (don't miss Providence and Delaware River Trading), and Westside, a newly revitalized market district that's home to interesting shops such as Belvedere (antiques), Bungalow (housewares), Pollen (flowers, containers, inspiration), and Relish (antiques, seconds, and vintage finds). Also visit Star Provisions, which sells inventive prepared foods, kitchenware, and tabletop items.
On the Move
Gone With the Wind (below) premiered in Atlanta (above) in 1939. Today fans of this Southern epic can tour the Margaret Mitchell House and Museum. Don't miss the High Museum of Art, known for its classical and contemporary art, or the museum's satellite Folk Art and Photography Gallery. Plant lovers should head to the Atlanta Botanical Garden–especially its Fuqua Conservatory, a glasshouse filled with exotic desert and tropical species. The Atlanta Preservation Center offers guided walking tours of Atlanta's historic neighborhoods and sites. The $5 tours focus on places like the Fox Theatre and the quiet streets of Druid Hills, the setting for Driving Miss Daisy (1989). Head 15 miles east of Atlanta to Stone Mountain Park, where you'll find a granite outcrop that features a bas-relief depiction (bottom) of Jefferson Davis, Robert E. Lee, and Stonewall Jackson.
The Georgia State Capitol–with its gold-plated rotunda–was constructed 24 years after the Civil War. One of the city's many neighborhood parks. Built in the 1920s, the opulent onion-domed Fox Theatre hosts everything from rock concerts to traveling Broadway shows. The Rev. Dr. Martin Luther King, Jr.'s legacy is honored in his simple clap. board birthplace, now operated by the National Park Service.
October 3, 2015 at 10:01 am