The Eyes Have It In Atlanta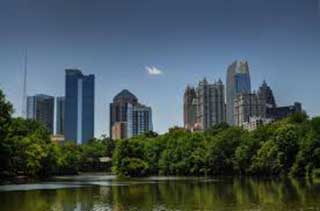 New York and Los Angeles are no longer the only cities for some of the coolest, most exclusive eyewear. Just ask the full-time security guard at Davante, a new, ultra-upscale eyewear boutique that opened last February in Atlanta's Lenox Square mall in Buckhead, the city's upscale shopping area.
Sandwiched between St. John and Godiva Chocolatier and near Neiman Marcus, the new store is part of a retail expansion for the Davante Group. The Las Vegas-based retailer currently boasts 10 units, of which seven are in Las Vegas, one in Mission Viejo, Calif., and another in St. Thomas, Virgin Islands. Davante is also opening stores in San Jose and Palm Springs, Calif., later this year. Also in the works: another Atlanta store in the nearby upscale Phipps Plaza mall and two more Las Vegas locations next year.
The extensive selection features 30 eyewear lines with a total of some 2,500 pairs of glasses. "If you can't find the glasses you're looking for at our stores, they probably don't exist," said Marvin Freeman, the company's president.
While the 650-square-foot Atlanta store is smaller than the Group's other stores, which measure around 1,000 feet each, it nevertheless manages to pack many upscale designers and jewelry firms. Cartier, Prada, Gucci, Chanel, Christian Roth, Dolce & Gabbana frames sit alongside hard-to-find, one-of-a-kind resources. Among these is Anne et Valentin, a French line with over 600 avant-garde designs specializing in two-tone colors and retro shapes. Gold & Wood is an all-custom design line using unusual materials such as buffalo horn and wood. Retro Specs, a group of refurbished glasses from the Thirties and Forties, uses all of the original materials.
The store, with its sleek, contemporary decor and enclosed glass wall displays, has an art gallery ambience. The more over-the-top styles include a futuristic concept called Brainwear by Theo. Brainwear glasses are secured by one vertical over-the-head metal piece, instead of earpieces, a sure conversation-starter. More sedate styles are also available, starting at $250. The average sale is around $350.
Prices for frames can go up to $10,000 for ruby or diamond embellished frames — hence the security guard.
Like designer clothing boutiques, Davante uses trunk shows as a sales and marketing tool. This November, a signature Panthere watch, priced at $35,000, will be created for a Cartier trunk show. Also, a Chanel trunk show will feature over 500 pieces of eyewear, Prada will hold its first eyewear trunk show in Atlanta, and designer Christian Roth will make a personal appearance.
Freeman was attracted to Atlanta's recent growth and its ties to music and sports. With a laboratory in Las Vegas, Davante makes all lenses, customizing each with a choice of 60 colors and gradations, as well as special treatments such as flash or mirrored effects. Designer names have been bestsellers, particularly with Atlanta women, who tend to be more conservative, according to the owner. But celebrity clients — from Sean (Puffy) Combs to hip-hop singer Da Brat to Celine Dion — often prefer flashier styles, and some may buy 15 to 20 styles at a pop.
Celebs aside, women account for 75 percent of sales. Currently, best-selling trends include lightweight titanium, laminated and colored frames, and rimless styles.
Total company sales are expected to reach $12 million to $15 million this year. Freeman, who has been in business 25 years, has seen eyewear evolve from a mere necessity to a fashion statement.
"First, sunglasses took off in the Eighties, and then, in the past five years, we're seeing designer lines growing more popular than ever," he said.
September 20, 2015 at 6:46 pm